Gift pack for student suffering from Cancer
A student of MS department semester 8, was diagnosed with lymphoma cancer stage 4 in July 2018. As a part of CSR activity a gift basket was sent at his residence on behalf of DHA Suffa University. The gifts included:
A get well soon card, signed by Vice Chancellor, Dean, ASO and CSR Director
Virtual Reality glasses (that will allow him to watch 3D movies while he is undergoing chemotherapy)
Car freshener/scent (since he loves driving)
Rubik's cube and a puzzle game
Chocolates and chips
The student's strength of character and faith during this challenging time in his life is commendable and inspiring. He was very grateful for the gift on behalf of the University. The CSR Department is grateful for the Universities continued support for such initiatives.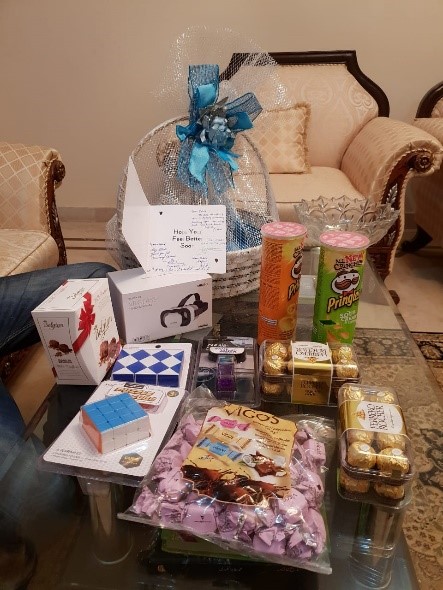 Groceries for widow of deceased electrician who used to work at DSU
On 20th November, 2018, Ms Farhat Umar and Ms Shaharbano Jafri, from the CSR department went to Orangi town at the residence of Mr. Nadeem, an electrician working at DSU who was shot few months ago, to deliver groceries and baby products (for his daughter). The grocery included fresh meat, vegetables, fruits with rice, wheat, pulses, spices, eggs, bread, milk and etc. The total donation funds collected from faculty and management were Rs.60, 000, of which Rs. 20,000 was given in cash and Rs. 20,000 was used for purchase of groceries delivered to them. For the month of December, VC has requested the wife and mother of Mr. Nadeem to visit the university, so he can meet them in person.  The remaining collected donation will be given to them at this time.
https://www.dsu.edu.pk/wp-content/uploads/2019/03/1-17.jpg
590
443
Danyal Mohiuddin
https://www.dsu.edu.pk/wp-content/uploads/2022/08/dsu_logo-1.webp
Danyal Mohiuddin
2019-03-26 09:16:26
2019-03-28 04:46:56
Acts of Kindness