Exciting News! DHA Suffa University is now a Certified Academic Certification Provider for SOLIDWORKS by Dassault Systèmes!
We are thrilled to announce that the DICE-Automotive CAE Center of Excellence (DACCE) within our esteemed Mechanical Engineering Department will be offering comprehensive training and certifications in various domains of SOLIDWORKS very soon!
Are you looking to get recognized your skills in SOLIDWORKS? Look no further! Our DACCE, in collaboration with the Computer Integrated Manufacturing (CIM) Center, is all set to provide students, trainees, professionals, and industries with cutting-edge solutions to both academic and real-life challenges.
With our top-notch training and OEM certifications, you'll be equipped to tackle intricate design problems, optimize manufacturing processes, and innovate like never before.
Our instructors are experts in SOLIDWORKS and will guide you every step of the way. Whether you are a student seeking to expand your knowledge or a professional aiming to stay ahead in the industry, our programs are tailored to cater to your specific needs.
Don't miss out on this incredible opportunity to boost your career prospects and make a significant impact in your field. Join us at DHA Suffa University, where excellence meets innovation.
Stay tuned for more updates on the launch of our training programs and how you can register to be part of this exceptional learning experience.
Discover the power of SOLIDWORKS with us and unleash your true potential! Together, let's shape a better future!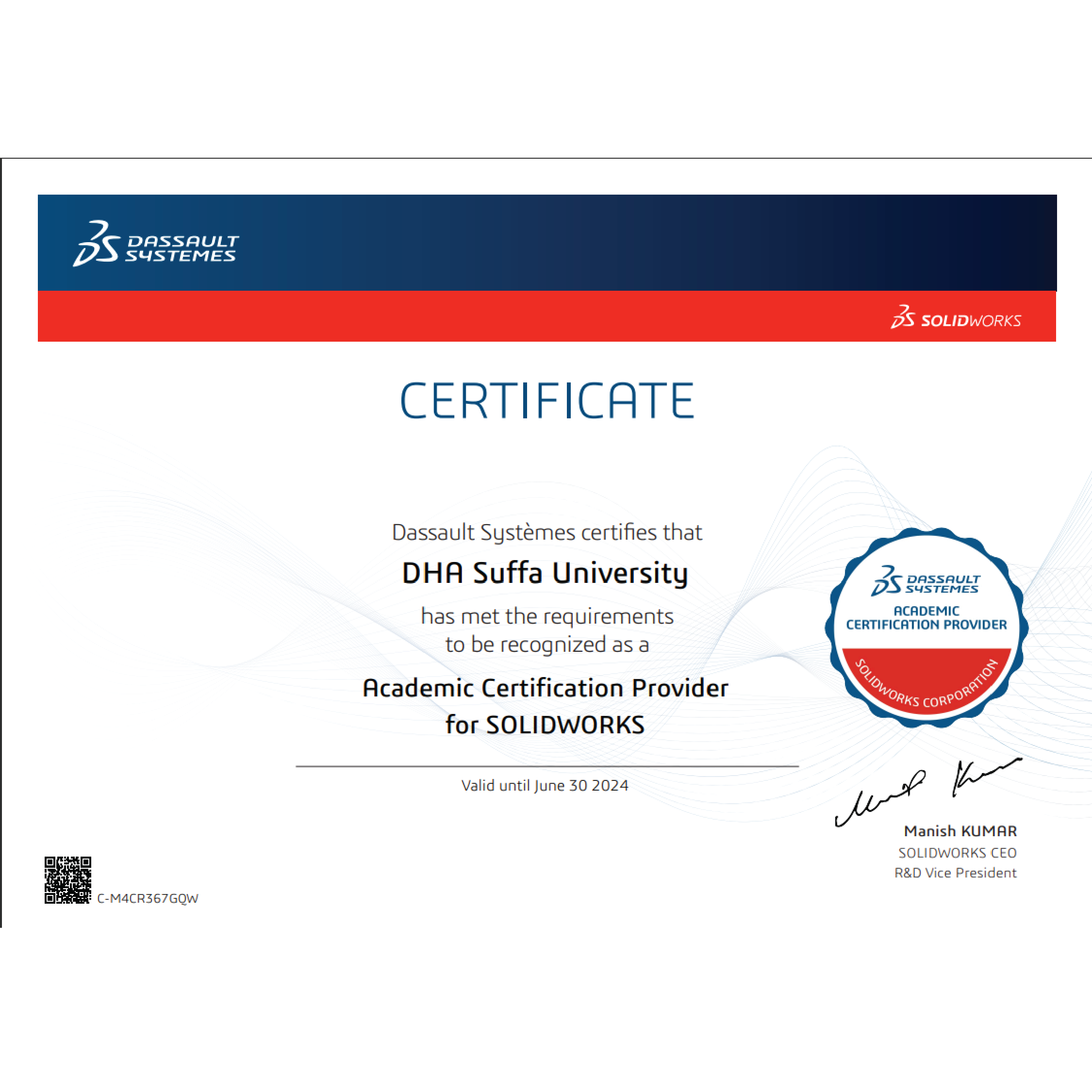 https://www.dsu.edu.pk/wp-content/uploads/2022/08/dsu_logo-1.webp
0
0
Sabeeh Kaleem
https://www.dsu.edu.pk/wp-content/uploads/2022/08/dsu_logo-1.webp
Sabeeh Kaleem
2023-08-04 12:15:47
2023-08-04 12:15:53
DHA Suffa University Certified by Dassault Systèmes as the "Academic Certification Provider for SOLIDWORKS"