We are thrilled to share the success of the event "𝐄𝐱𝐩𝐥𝐨𝐫𝐢𝐧𝐠 𝐎𝐩𝐩𝐨𝐫𝐭𝐮𝐧𝐢𝐭𝐢𝐞𝐬 𝐢𝐧 𝐭𝐡𝐞 𝐆𝐚𝐦𝐢𝐧𝐠 𝐈𝐧𝐝𝐮𝐬𝐭𝐫𝐲," organized by 𝐃𝐒𝐔-𝐂𝐞𝐧𝐭𝐞𝐫 𝐟𝐨𝐫 𝐄𝐧𝐭𝐫𝐞𝐩𝐫𝐞𝐧𝐞𝐮𝐫𝐬𝐡𝐢𝐩 𝐚𝐧𝐝 𝐈𝐧𝐧𝐨𝐯𝐚𝐭𝐢𝐨𝐧 𝐃𝐞𝐯𝐞𝐥𝐨𝐩𝐦𝐞𝐧𝐭 (𝐃𝐒𝐔-𝐂𝐄𝐈𝐃) in collaboration with 𝐌𝐢𝐧𝐝𝐬𝐭𝐨𝐫𝐦 𝐒𝐭𝐮𝐝𝐢𝐨𝐬 𝐚𝐭 𝐀𝐠𝐚𝐡𝐳, 𝐓𝐡𝐞 𝐃𝐇𝐀 𝐒𝐮𝐟𝐟𝐚 𝐔𝐧𝐢𝐯𝐞𝐫𝐬𝐢𝐭𝐲.
The event attracted 𝐬𝐭𝐮𝐝𝐞𝐧𝐭𝐬 from 𝐝𝐢𝐯𝐞𝐫𝐬𝐞 𝐝𝐢𝐬𝐜𝐢𝐩𝐥𝐢𝐧𝐞𝐬 who were eager to explore the various 𝐜𝐚𝐫𝐞𝐞𝐫 𝐩𝐨𝐬𝐬𝐢𝐛𝐢𝐥𝐢𝐭𝐢𝐞𝐬 within the gaming industry. The sessions provided invaluable insights into the world of mobile application gaming, including the initial capital requirements and the potential for career growth in this exciting sector.
We would like to acknowledge the exceptional contribution of 𝐑𝐚𝐦𝐬𝐡𝐚 𝐇𝐚𝐬𝐚𝐧, a Commonwealth Shared Scholar and development professional, who served as the spokesperson during the event. With her expertise in program management, grant and donor management, developmental communication strategies, and stakeholder management, 𝐑𝐚𝐦𝐬𝐡𝐚 𝐇𝐚𝐬𝐚𝐧 provided valuable guidance and knowledge to the participants.
The event aimed to empower individuals from all backgrounds, highlighting the abundant opportunities and enjoyable experiences that the gaming industry offers. Whether you're an artist or belong to any other department, the gaming industry welcomes you to explore your passion 𝐛𝐮𝐢𝐥𝐝 𝐚 𝐬𝐮𝐜𝐜𝐞𝐬𝐬𝐟𝐮𝐥 𝐜𝐚𝐫𝐞𝐞𝐫.
We extend our gratitude to all the participants and the speaker who made this event a resounding success. Stay tuned for more exciting events and opportunities brought to you by 𝐃𝐒𝐔-𝐂𝐄𝐈𝐃 and our esteemed collaborators.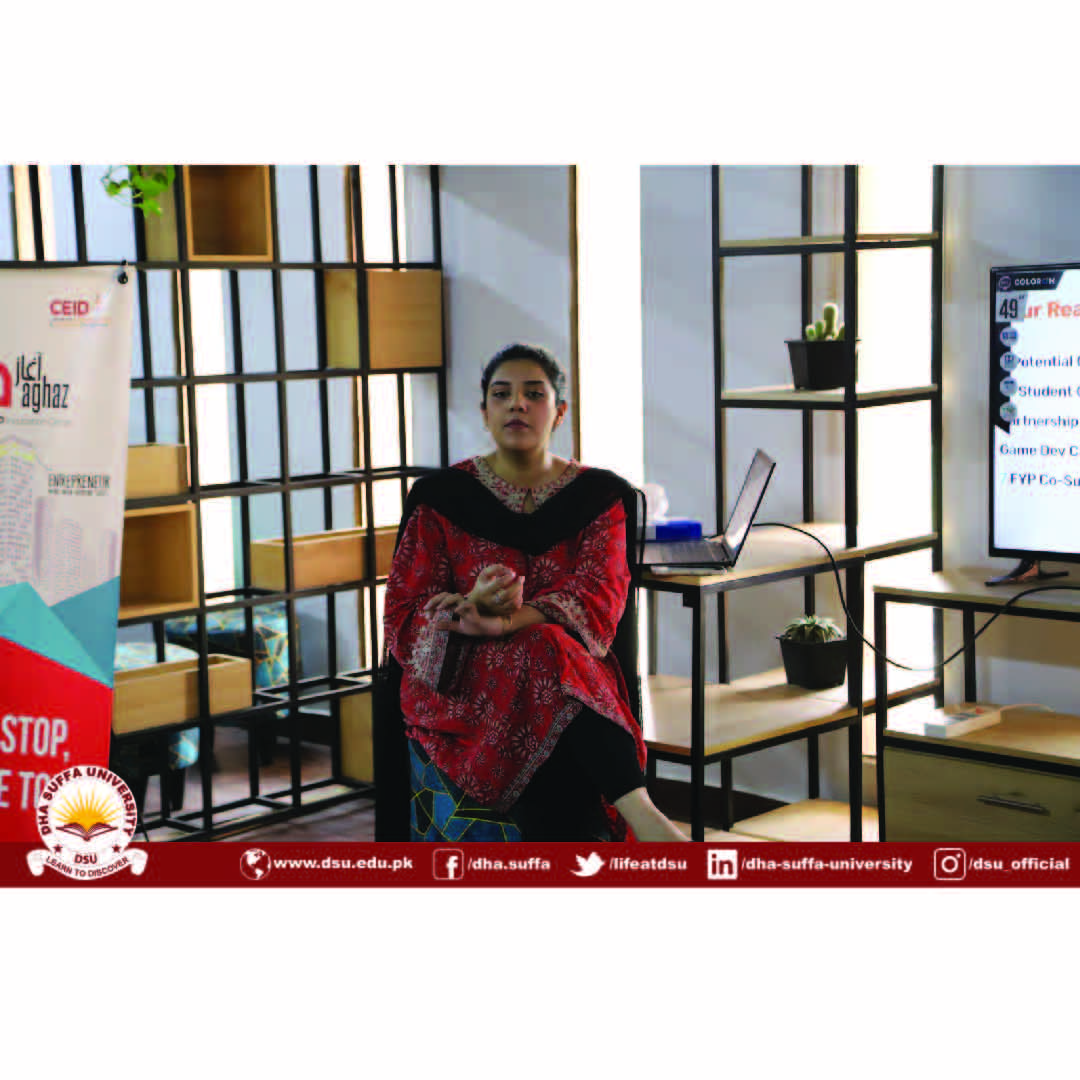 https://www.dsu.edu.pk/wp-content/uploads/2022/08/dsu_logo-1.webp
0
0
Sabeeh Kaleem
https://www.dsu.edu.pk/wp-content/uploads/2022/08/dsu_logo-1.webp
Sabeeh Kaleem
2023-06-03 22:42:58
2023-06-03 22:50:05
Exploring Opportunities in the Gaming Industry