DSU's IERC (Intl Education Resource Center) would like to encourage DSU students and alumni to apply for the Scholarship for Foreign Students tenable in Brunei Darussalam for the 2023/2024 academic session. The scholarship provides foreign students with the opportunity to pursue studies at the Postgraduate Masters Degree level at the following institutions of higher education in Brunei:
• Universiti Brunei Darussalam (UBD),
• Universiti Islam Sultan Sharif Ali (UNISSA),
• Universiti Teknologi Brunei (UTB),
• Kolej Universiti Perguruan Ugama Seri Begawan (KUPU SB) and
• Politeknik Brunei (PB).
The application form and further details on the scholarship are available on the following link. http://www.mfa.gov.bn/online-bdgs
The deadline to apply for this scholarship is 15th Feb 2023. DSU's final semester undergraduate students as well as DSU alumni are strongly encouraged to apply.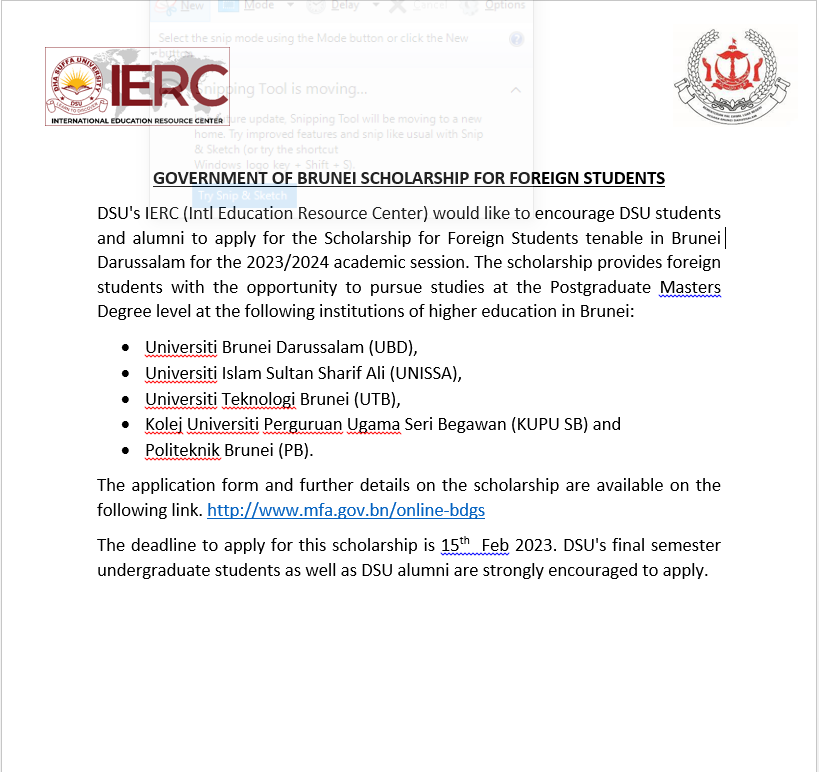 https://www.dsu.edu.pk/wp-content/uploads/2022/08/dsu_logo-1.webp
0
0
Sabeeh Kaleem
https://www.dsu.edu.pk/wp-content/uploads/2022/08/dsu_logo-1.webp
Sabeeh Kaleem
2023-01-12 12:38:26
2023-01-12 12:38:29
GOVERNMENT OF BRUNEI SCHOLARSHIP FOR FOREIGN STUDENTS