Jian Khan and Haroon Ur Rasheed, the students of BS International Relations 7th semester completed a 4 weeks internship program at the prestigious think tank Centre for Strategic Studies Sind (CISSS).
Lt. General (R.) Khalid Kidwai (AD – National Command Authority) awarded the certificates of completion to the students, whereas, the Executive Director of CISSS Ambassador (R.) Qazi Khalilullah was also present at the moment.
The students shared their gratitude to their respected faculty in following words:
"We are very thankful to our professors of International Relations for providing us an opportunity to work and learn at Sind's most significant think tank CISSS. It was a wonderful experience of working with an excellent and highly qualified team of researchers headed by Pakistan's seasoned diplomat Qazi M. Khalil Ullah. " – Jian Khan
"We would like to convey our earnest regards to Prof. Dr. Ahmed Saeed Minhas who taught us the courses of Strategic Studies and Arms Control & Disarmament as these two courses helped us a lot and made our internship projects easier. The IR program of DSU is always committed to bring best learning opportunities for its students. " – Haroon Ur Rasheed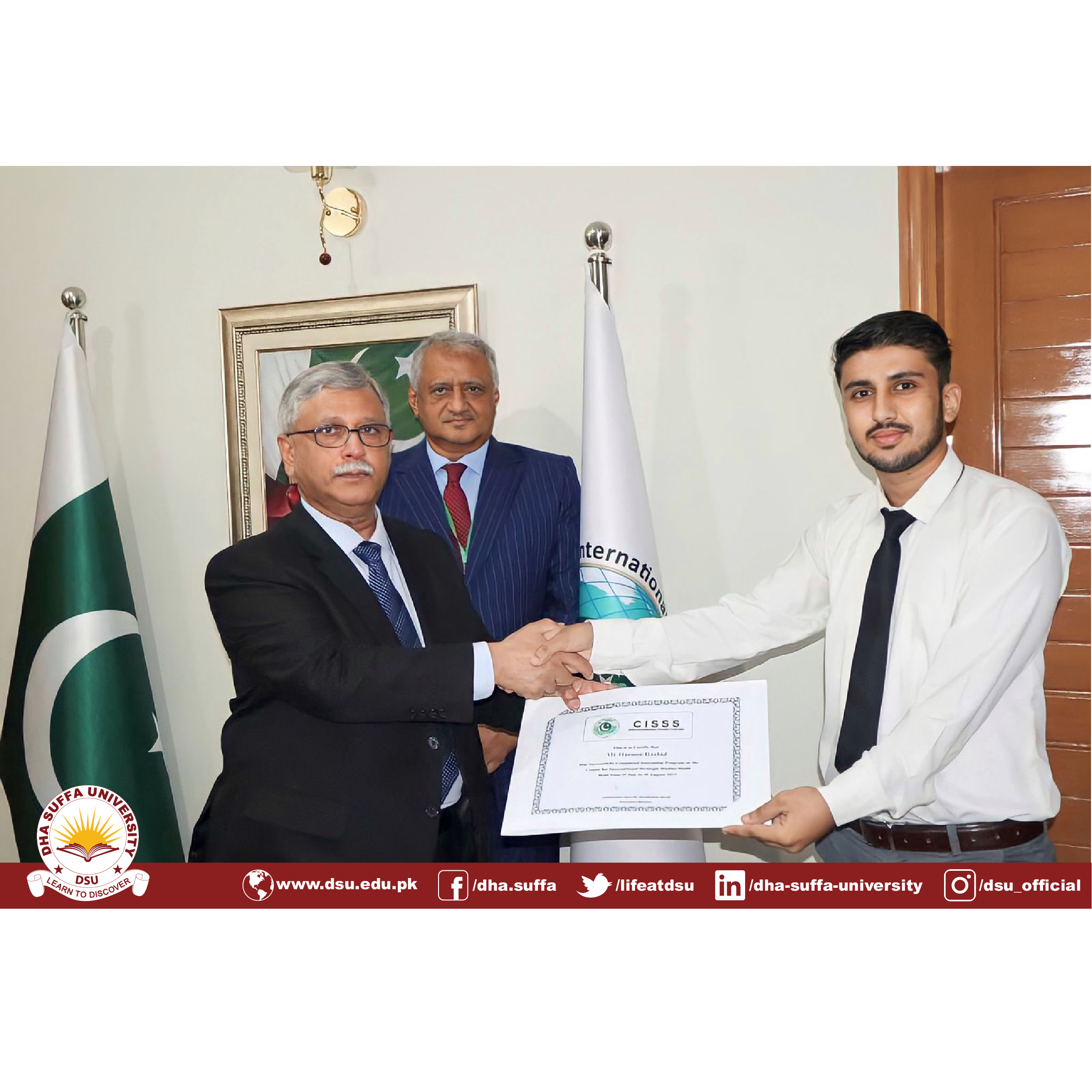 https://www.dsu.edu.pk/wp-content/uploads/2022/08/dsu_logo-1.webp
0
0
Sabeeh Kaleem
https://www.dsu.edu.pk/wp-content/uploads/2022/08/dsu_logo-1.webp
Sabeeh Kaleem
2023-08-21 12:09:12
2023-08-21 12:46:40
STUDENTS OF BS INTERNATIONAL RELATIONS 7TH SEMESTER COMPLETED A 4 WEEKS INTERNSHIP PROGRAM AT THE PRESTIGIOUS THINK TANK CENTRE FOR STRATEGIC STUDIES SIND (CISSS).